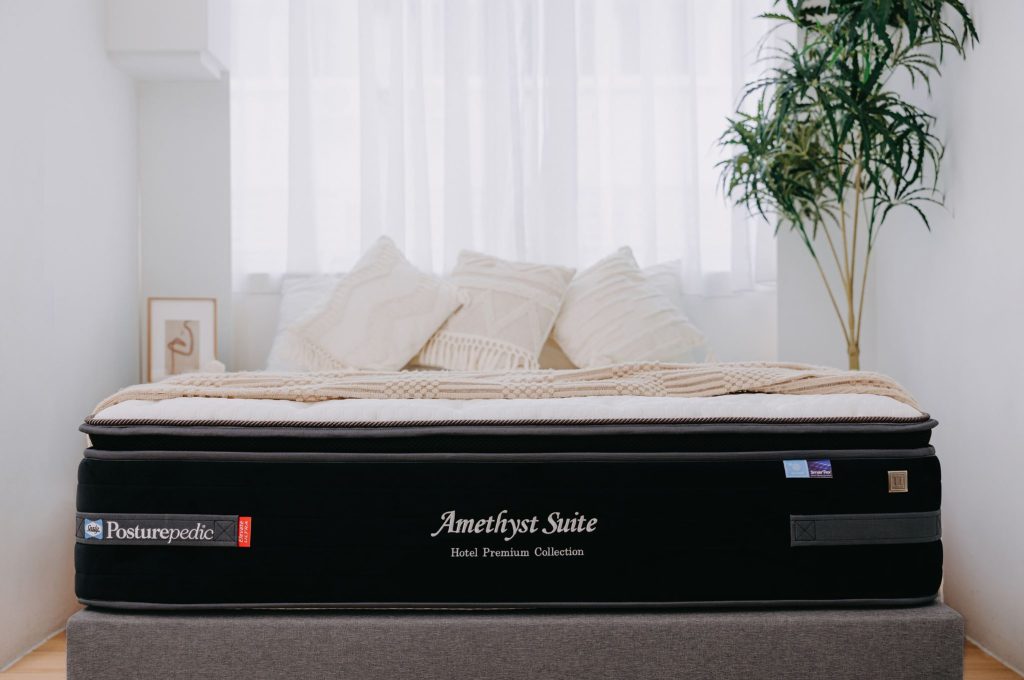 Have you ever wondered why Sealy Posturepedic mattresses are renowned for their superior comfort and support? Well, the answer lies in the meticulous selection of materials and the construction techniques employed in the making of every single mattress. From the carefully engineered coils to the advanced ComfortCore layers, every element is designed to offer you the ultimate sleep experience. In this article, we will delve into the anatomy of a Sealy Posturepedic mattress and discover why it might just be the perfect fit for your sleep needs.
What are the types of materials found in Sealy Posturepedic Mattress Range?
1. Patented Coils  
One of the most crucial components of a Sealy mattress is its coil system, which provides foundational support for your entire body. Sealy's engineers have developed a range of coil systems that cater to different sleeping preferences and body types, ensuring that every sleeper can find their perfect match. Below are the patented coils found in our different Posturepedic mattress collections:
AlignSupport™ – Found in Posturepedic Adjustable, Elevate Ultra and Elevate ranges, this advanced two-stage coil system featured in Sealy's premium range demonstrates an intuitive design that senses your weight and provides customised support to help maintain your body's natural alignment. This innovative technology delivers a 6% improvement in deep-down support, reducing pressure points and promoting restful sleep. Additionally, this coil technology significantly reduces lateral movement by up to 75% and an 18% reduction in motion transfer, ensuring you and your partner enjoy uninterrupted rest.
RestSUPPORT – RestSUPPORT is our most advanced coil technology, offering three stages of support for an unparalleled sleep experience. The first stage features the unique SynerFlex surface that micro-conforms to relieve pressure points, while the upgraded Align Head design in the second stage provides better contouring and Posturepedic® support. Lastly, the third stage showcases Posturepedic® innercore, which is designed to sense the load applied and provide the orthopaedically correct response. Sealy is the only manufacturer that uses twice heat-tempered coils made from Titanium alloy, ensuring that the coils retain 98% of their height and performance for a more durable mattress with longer-lasting comfort. If you want to experience the benefits of this phenomenal coil design, learn more about our ultra-premium range which includes Exquisite and Palatial Crest mattresses.
2. Innovative Edge Support
Another exclusive feature of the Posturepedic mattress range is the innovative and patented edge support system known as UniCased® XT. This advanced technology maximises your sleep surface by providing a seamless transition from one edge of the bed to the other, ensuring ultimate comfort and support throughout the night.
3. Gel-infused Visco Elastic 
The gel-infused memory foam utilised in selected Posturepedic Adjustable, Elevate Ultra, Exquisite and Palatial Crest models conforms to the unique contours of your body at rest, providing personalised support and pressure relief. Unlike ordinary foams, this memory foam is more durable and can withstand years of use without losing its shape or structure. Plus, the targeted comfort design specifically caters to the lower back area, providing much-needed relief where it is needed most. So, whether you're a back sleeper or a side sleeper, you can enjoy a restful and comfortable night's sleep with Sealy's gel-infused memory foam technology.
4. Pure Latex Foam 
Latex is a type of material that can offer various benefits, including superior comfort, support, and durability, as well as hypoallergenic and eco-friendly properties. Sealy offers mattresses that feature pure latex blended with other comfort layers such as gel foam, wool, silk, and more. You can experience this combination of high-quality materials in selected models, namely: Exquisite,  Palatial Crest and Elevate Ultra. These models may come with one or more of three different types of high-density pure latex:
Super Latex: a high-density 100% natural latex that provides dynamic conformance and pressure relief. It is flexible and resilient and offers the inherent natural anti-microbial benefits of latex.
Sealy Energy Latex: a high-density pure latex that provides conformance and pressure relief. The 7-zoned profile makes it even more conforming and luxurious.
Latex ComfortCore: a high-density pure latex in the centre-third of the mattress to provide ultimate conformance to the lower back, where it's needed most.
5. Ice Touch Fabric 
If you're looking for a mattress that will help keep you cool and comfortable all night long, look no further than the Ice-Touch® technology used in Elevate Ultra, Palatial Crest and Exquisite models. Unlike other cooling technologies that simply dissipate heat, Ice-Touch® is specifically designed to provide an instant cooling effect on the skin, helping you fall asleep more quickly and enjoy a restful night's sleep.
So how does it work? The Ice-Touch® fabric is engineered to be cool-to-the-touch, meaning that it feels refreshingly cool against your skin as soon as you lie down. This is thanks to a unique combination of materials that work together to draw heat away from your body and release it into the surrounding air. As a result, you'll feel cooler and more comfortable throughout the night, even during the warmest months of the year.
6. Luxurious Fibre Fills 
Sealy takes pride in the variety of high-quality fibre blends seen in our ultra-premium mattresses. So, if you're in search of a top-of-the-line mattress that can provide both comfort and luxury, you might want to consider investing in our Exquisite or Palatial Crest mattresses to experience a superior sleep experience that you won't find anywhere else.
Our Exquisite range features a luxurious blend of silk and wool fibres that will provide you with the utmost comfort and support that you could ever dream of. This is the perfect choice for those who want to invest in a mattress that assists their body in relaxing and recovering like no other bed.
Similarly, our Palatial Crest range also boasts exceptional levels of comfort and luxury. This mattress offers a blend of exotic fibre materials, including cashmere and alpaca fibre, that will take you to a luxurious sleep experience you'll never forget.
So why are these fibre blends so special? It all comes down to their unique properties. Cashmere, for example, is prized for its softness and warmth, while alpaca fibre is known for its durability, strong thermal capacity and hypoallergenic properties. Silk is a highly resilient and durable fibre that exhibits a lustrous sheen and luxurious touch, while wool naturally provides excellent insulation that will keep you warmer in winter and cooler in summer.
Whether you choose Palatial Crest or Exquisite, you can rest easy knowing that you're investing in a bed that will provide you with the exceptional comfort and support you need for a luxurious sleep, night after night.
What is a Sealy Posturepedic Mattress Made Of?
In conclusion, Sealy Posturepedic Mattresses are made from high-quality and premium materials, patented coil designs, gel-infused visco elastic/latex comfort layer and UniCased XT edge support. Some models also come with pure latex foam, Ice-Touch® fabric, as well as exotic and luxurious fibre fill – ensuring a comfortable and restful sleep experience that lasts.
Now that you learned about the types of materials found in Sealy Posturepedic mattresses and their benefits, we hope you find your dream mattress in our Posturepedic mattress range. But if you're still uncertain about which one to buy, you can try our mattress selector quiz below.