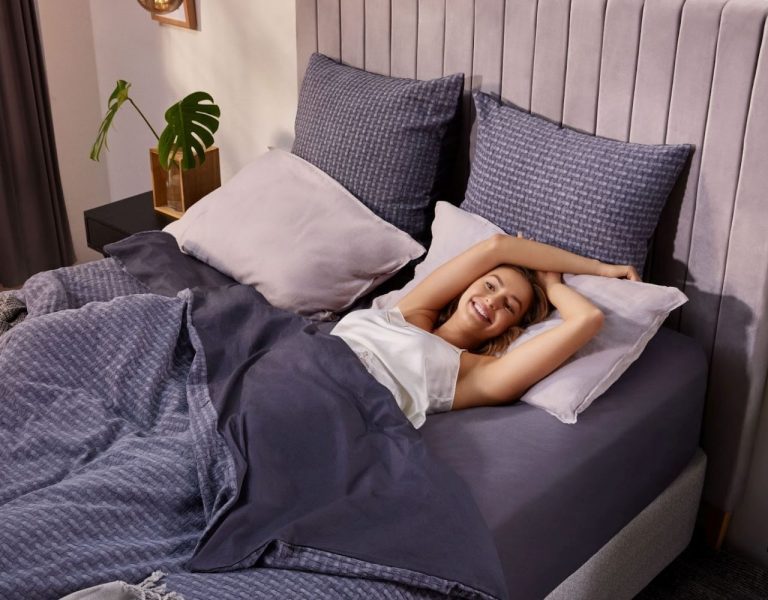 Have you ever wondered if a good mattress can improve your sleep? Well, the answer is yes. Research and medical professionals suggest that your mattress has an impact on your sleep quality. We believe that everyone deserves a mattress that offers a perfect balance of correct support and the right comfort level. Hence, we want to tell you why Sealy Mattresses are made for better sleep.
Why Sealy Mattresses Are Made For Better Sleep
One of the most basic but essential characteristics of a mattress that is usually being compromised is its quality and durability. A good mattress should have the ability to perform its required functions over a long period of time without much maintenance. This also helps you prevent having to pay for a new mattress sooner than expected. 
All mattresses that we offer are constructed with a strong, advanced edge support system that plays a vital role not only in extending a mattress' comfort life but also in maximising its usable surface. 
The products found in the Sealy PosturePremier and PostureLux selections utilise EdgeGuard® and UniKey® edge support technology. The key purposes include providing a firm seating edge and greater surface stability. On the other hand, the Sealy Posturepedic range boasts more advanced technologies called FlexiCased® and UniCased® XT, whereby the key benefits include edge-to-edge comfort, no roll-off and minimised partner disturbance.
In terms of quality, Sealy never compromises by lowering a specification or withdrawing components. Every part of our mattresses is subjected to a series of rigorous tests such as simulated time/wear and fatigue testing before releasing them to the market to ensure that our customers get the best value for their money. No aspect of quality is left to chance. Moreover, decades of research and development go into each design, which has led to technology that you can only find in Sealy. 
Sleeping on a mattress with poor support could lead to tossing and turning, back pain, stiffness and soreness — hindering you from getting a good night's sleep. 
Sealy takes pride in our orthopaedically correct spring support system engineered to  support the body in its natural position to relieve muscular tension, as well as minimise toss and turn during sleep by alleviating pressure points, for all body types. The two spring designs commonly found in our Posturepedic Mattress range are the SRx® and ReST® support systems which are both made from durable Titanium alloy.
If you're looking for firmness, stability and support — our Posturepedic Aspire and Posturepedic Enhance ranges are the right options for you. These premium mattresses use SRx® Titanium coils that are specifically designed for single-sided mattresses and have a distinct softer initial feel. The coils are arranged in alternating columns for greater stability.
On the other hand, if you want to experience our latest and highest grade of Sealy coils, have a look at our Posturepedic Exquisite and Posturepedic Palatial Crest Mattresses. These products from our ultra-premium range possess ReST® coils, a 3-stage support system that is backed by revolutionary coil technology that conforms to the body like no other, ensuring exceptional comfort and smooth, deep-down support.
We are well aware that comfort is subjective, not to mention how each one of us has our own preferred sleeping position. For example, a softer mattress works well for side sleepers but would cause discomfort for stomach sleepers as their hips and pelvis would sink below the level of their shoulders which can strain their spine. That being said, we want to ensure that our mattress range can cater to all types of sleepers. 
Our PostureLux range, as well as our specialty, premium and ultra-premium mattress ranges, feature a Sealy-exclusive conformance system called ComfortCore®. This serves as an extra layer of support through the centre third of the mattress, providing extra conformance in the lumbar region of the lower back. Sealy's comfort layers are a  combination of pressure-relieving materials with the likes of latex, natural wool, memory foam, gel-infused visco and more, that work harmoniously together to achieve the right mattress 'feel' tailored to our customers' needs. 
It is undeniable that it is hard to get a good sleep in very hot and humid weather, especially in tropical countries like Singapore where the average daily temperature ranges from 31-33ºC during the day and around 23-25ºC during the night, whereas the recommended bedroom temperature for sleep is approximately 18.3ºC. In fact, studies have shown that "Heat exposure increases wakefulness and decreases slow wave sleep and rapid eye movement sleep." — meaning, that a hot humid environment affects sleep stages resulting in poor sleep quality.
With Sealy, you no longer have to worry about feeling too hot in your sleep. Most of our products feature cooling technologies namely, SmarTex® and Ice-Touch®.
SmarTex® is a smart textile fabric treatment that helps regulate the sleep surface temperature by rapidly dispersing heat and moisture as your body temperature increases throughout the night.
Similarly, the Ice-Touch® technology which can be found in the Sealy Optimum and selected Enhance models, provides an instant cooling effect on the skin so you can stay cool and fall asleep quicker and longer. 
5. Innovative Technology & Designs
When you're shopping for a mattress here at Sealy, rest assure that you will experience advanced mattress technology and design backed by science.
It is one of our goals to help people get a better night's sleep with products that are enhanced by scientific research. Hence, Sealy's Research & Development team often collaborates with a group of experts known as the Orthopaedic Advisory Board (OAB). The members of the said group are founders and key members of the Queensland University of Technology Biomechanics and Spine Research Group whose independent, real-world research will help direct the future of Sealy Posturepedic.
A good mattress delivers the perfect balance of support and comfort, lasts for a long time and is designed by experts — the same key qualities that can be found in Sealy mattresses. Elevate your sleep and shop Sealy products today
If you are still unsure which of our products matches your needs, you can use our Mattress Selector tool as a guide.