THE ORTHOPAEDIC ADVISORY BOARD
At Sealy, our aim is to help people get a better night's sleep with products that are informed by scientific research and technical knowledge. To this end, we collaborate frequently with a group known as the Orthopaedic Advisory Board (OAB).

The members of the OAB are eminent orthopaedic surgeons and researchers from the Queensland University of Technology Biomechanics and Spine Research Group. They collaborate with our Research & Development team on spinal alignment and sleep quality, conducting independent, real-world research. Their outcomes help direct the future of Sealy Posturepedic around the world.
· Adjunct Professor Geoff Askin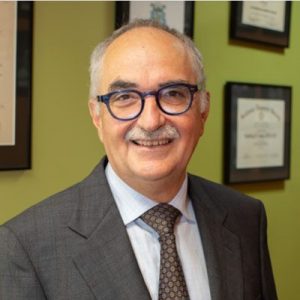 Dr. Askin has been an international leader in spinal surgery for over 30 years. He is a pioneer for new surgical techniques to correct spinal deformity. LEARN MORE
· Adjunct Associate Professor Robert Labrom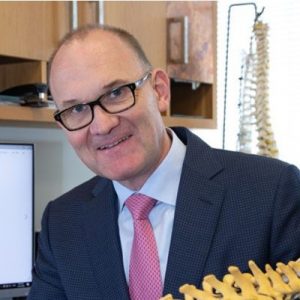 A practicing orthopaedic surgeon for 20 years, Dr. Labrom has contributed key understandings towards the development of the human spine. LEARN MORE
· Emeritus Professor Mark Pearcy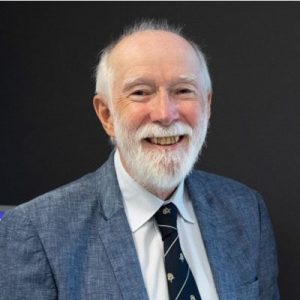 Professor Pearcy has 40 years of biomechanical research experience, focusing on movement and how we can be supported by artificial joints and implants. LEARN MORE
· Associate Professor Paige Little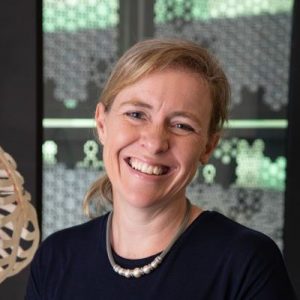 Associate Professor Little is a global leader in the field of sleep spinal alignment, combining modelling and imaging techniques to understand internal spinal movement. LEARN MORE
· Sealy R&D Manager Daniel Green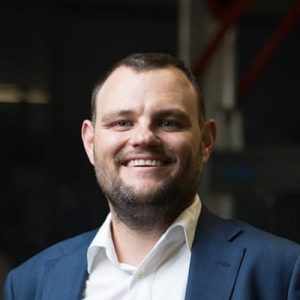 A mechanical engineer and the head of Sealy R&D, Mr. Green has been pivotal in advancing knowledge and measurement techniques in sleep spinal alignment. LEARN MORE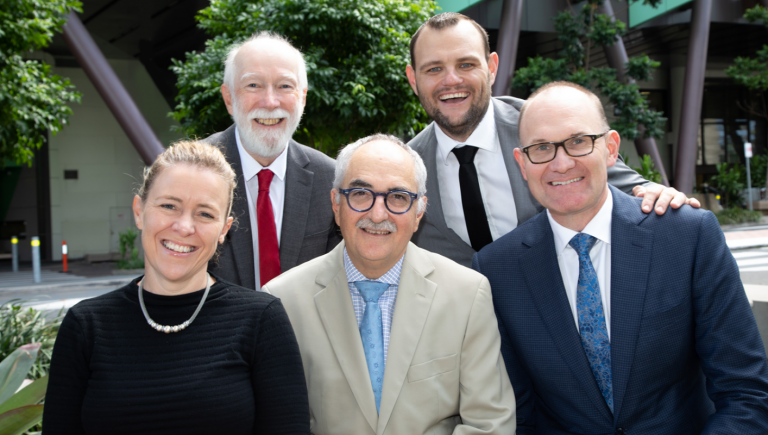 Members of the new Orthopaedic Advisory Board
DEFINING POSTUREPEDIC SUPPORT CRITERIA
We know that to help achieve restful sleep, you need a mattress that maintains the same alignment of the body when standing. This can assist to prevent back pain, discomfort and disturbed sleep. To achieve this, we have criteria for our products known as the Posturepedic Support Criteria (PSC). This outlines maximum angles and ideal ranges of movement when lying down. It was originally established by orthopaedic surgeons in the 1950s and has been redefined in 2020s.
Our work with the OAB helps us to refine our understanding of sleep biomechanics and drive our innovation forward. We have recently created an advanced definition of the PSC. In addition to the original criteria, we now consider anatomical differences between males and females and include the neck in spinal measurements. We have also expanded our assessment of spinal alignment when lying on the side as well as on the back.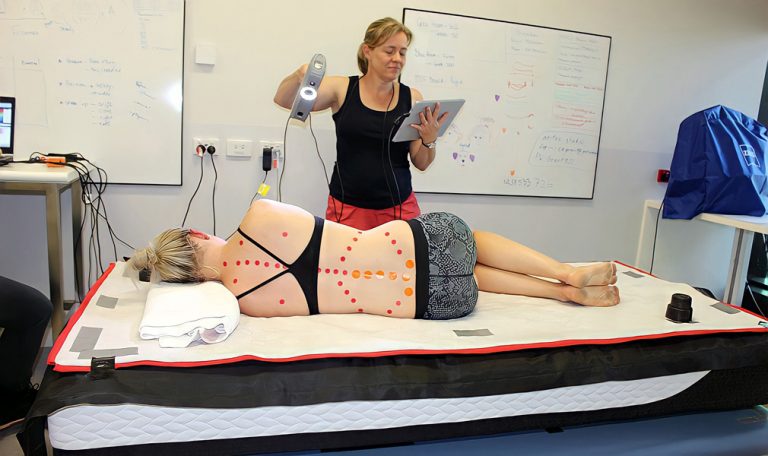 Assoc. Prof. Paige Little performing 3D surface scan on a research participant.
Key steps in support criteria research
To carry out this research, the OAB worked with 50 adults (both male and female). They analysed the human body while lying on the side and on the back, on different sleep surfaces.
The research used a wide array of technology:
Magnetic Resonance Imaging (MRI) – for internal and external images of the body
3D surface scanning – highly accurate three dimensional computer models of the body surface
Deformation sensors – creating a detailed understanding of how a surface moves during use
Pressure mapping – measuring pressure between the person and the mattress, and how pressure is distributed across an entire surface
The OAB also had the volunteers conduct home trials with specific products and a survey based on comfort and sleep quality. Aspects of this research published, and have had a significant impact on how we will continue to innovate and design our products.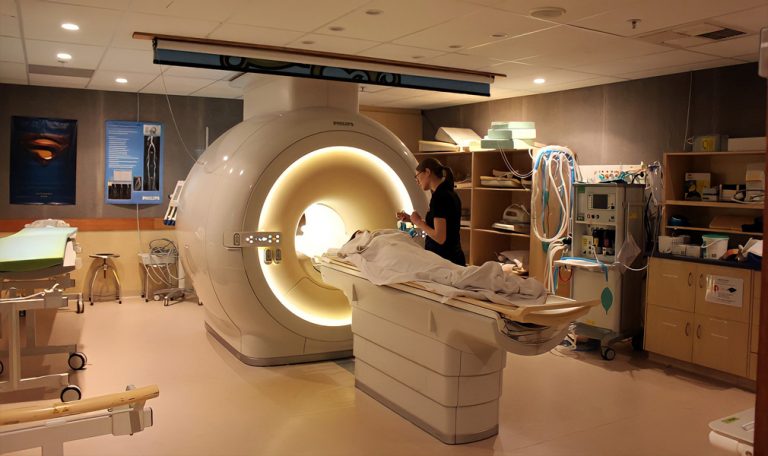 A participant undergoing MRI scan at the Mater Public Hospital in Queensland.
The purpose of our collaboration with the OAB is to ensure Sealy Posturepedic produces the very best sleep product possible.
Advancing research and development
Our Research & Development team have been using spinal alignment mannequins (SAMs) for many years. The SAMs are designed to move just a human body does, and are used to measure the support offered by different mattresses.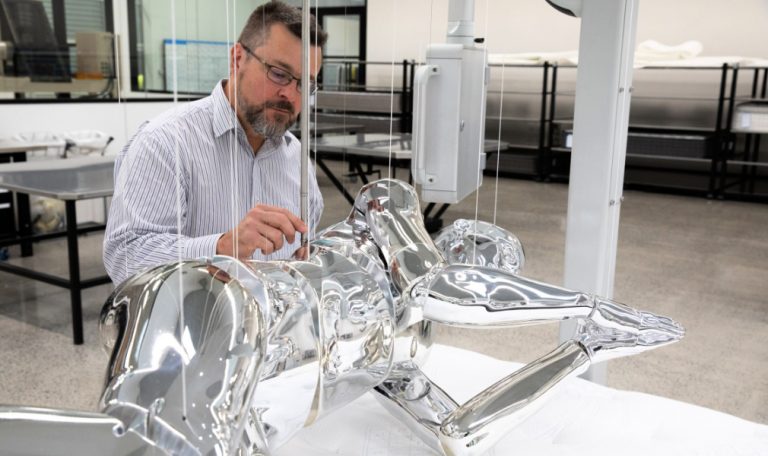 Development and construction of the new Spinal Alignment Manikins (SAMs).
As a result of the OAB's research, we were able to develop new and updated mannequins that assess performance against the advanced Posturepedic Support Criteria. They have been designed to assess the characteristics of different surfaces, for both men and women, lying on their back and sides.
A better mattress means better sleep
With the OAB's expertise, we have a greater understanding of how the body interacts with a mattress. We are also able to apply genuine research to mattress development, testing and design. This means that, not only will you experience a better night's sleep, but you are sleeping on a mattress that is backed by orthopaedic research. This is what makes Sealy Posturepedic different and better.