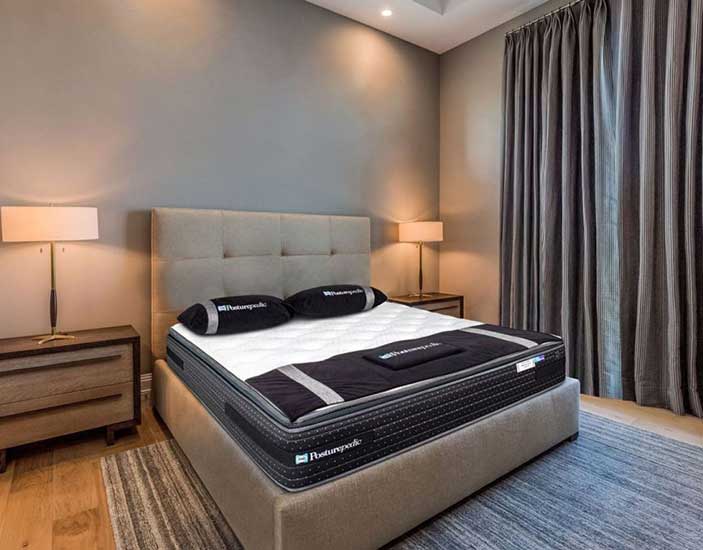 Sealy is produced internationally in our manufacturing facilities and Research & Development labs that are located at various regions. We source mattresses from these manufacturing facilities in meeting our local requirements on comfort preferences. Regardless of country of origin, we believe in developing only the highest quality products based on our manufacturing capabilities and ensuring all locally and internationally sourced materials are tested in accordance to Sealy's product standard.
What about the Sealy mattresses in Singapore? Where are they from?
In Singapore, Sealy products are mainly developed and manufactured in our factories in Australia, China and Thailand. Every piece of mattress produced has to adhere to a strict standard before it leaves our manufacturing plants.
Largest NATA accredited Research & Development facility

In addition to having the largest NATA accredited research and development facility in the Southern Hemisphere, Sealy has also been collaborating with the Orthopaedic Advisory Board (OAB) on spinal alignment and sleep quality. Together with our R&D laboratories in China and Thailand, we conduct ongoing medical research and testing of new components, materials and construction methods.

All of the mattresses are designed to provide orthopaedically correct support, pressure relieving comfort and long-lasting durability that are backed by leading orthopaedic science.

The Role of Research & Testing

In order to fulfil our deep commitment in developing the best mattress, there are tests conducted constantly in our Research and Development facilities such as:

Indentation Load Deflection test on Raw Spring Unit and Single Coil – to determine initial firmness and response.
Rollator Test – The rollator runs a 110kg hexagonal-shaped weight backwards and forwards across the surface of a mattress through 100,000 cycles to simulate 10-year normal usage. This test fatigues every main component of the mattress as a whole; that is, every part of the mattress is tested for durability as a finished product. All products, regardless of technology, price point or country of origin, are tested using the same process and are benchmarked with the same level of performance.
Foam Quality and Initial Firmness Test – this is to ensure that the performance of the foam is up to Sealy's standard, and is of the correct specifications. Testing includes density, firmness loss and height loss.
Seam Strength – To determine strength of a fabric by applying a tensile force on it. This is to ensure that the seams of fabrics used remain intact during factory production. The same test is applied to handles as well.
Abrasion and Pilling test – To determine pilling performance of the fabric. This test helps to determine the durability of the product on surface deterioration and ensure the fabric does not tear under normal usage such as tossing and turning.
Sweating Manikin – To test the effectiveness of our SmarTex fabric and to do so, the temperature of the sleep surface of a mattress treated with and without SmarTex is measured. It has been proven that the temperature of the sleep surface treated with SmarTex is cooler as SmarTex will wick the heat away from the sleep surface and speed up the evaporation of moisture to provide a cooler sleep surface.

Manikin for Articulating Bend Force – to test durability of an Adjustable bed and also pressure mapping to ensure the mattress is providing the correct support in conjunction with sufficient pressure-relieving materials.
We have also recently developed SAMs (spinal alignment mannikins) in order to measure the support characteristics of different surfaces and mattresses, and assess how they perform against our Posturepedic Support Criteria. Used for testing in our world leading R&D centre, the SAMs are designed and calibrated to move and respond to a mattress in the same manner as the human body. This provides us with a greater understanding of how the body interacts with a mattress, to give you a better night's sleep.

Lastly, all of our spring units are heat tempered twice, once when coils are formed and then followed by an oven baking process on the completed raw spring unit thereafter. The reason is that when Hard Drawn wires are cold formed into spring shapes, stresses are developed in the steel which, if not removed, it will result in high profile and firmness loss. Hence, heat tempering (twice) will help improve the durability of the spring units in minimising profile and firmness loss by restoring the resilience of the coil.

With the OAB's input and assistance, we ensure that every Sealy Posturepedic has genuine research behind the design and it is tested to last. As such, if it is a Sealy, it is Made by Sealy.