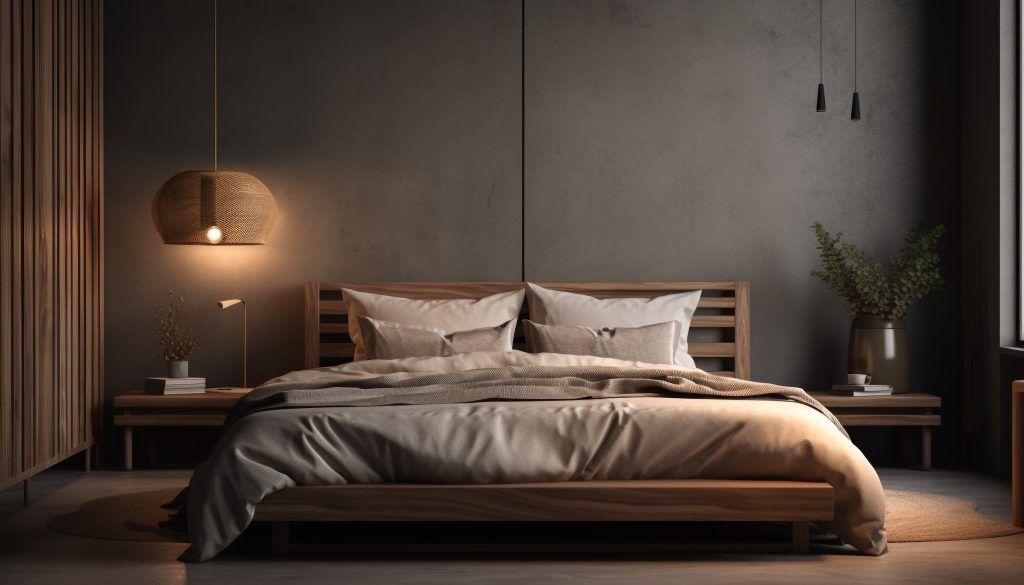 Imagine this: you return home after a tiring day at work to a cosy bedroom, welcomed by a soft, warm glow of lighting, a perfectly made bed, inviting plush pillows and a serene ambience – like a fancy hotel room where all you need to do is hop into bed for a good night's sleep. The good news is you can make this a reality. Instead of spending a fortune for a night at a luxury hotel, why not transform your bedroom into one to experience that every day? In this article, we'll show you how to make your bedroom look and feel like a hotel room to help you experience the ultimate comfort and style, as well as better sleep and relaxation.
What Are The Key Characteristics of a Hotel-Style Bedroom?
Before we get into the tips for making your bedroom feel like a hotel-like space, let's start by understanding the defining features of a luxury hotel bedroom that make it special.
Comfort

The first characteristic is the unparalleled level of comfort. The bed and pillows look inviting, and lying down on them feels like you're receiving a warm, cosy hug, instantly helping you relax and forget your worries.

Elegance

When you're in a 5-star hotel room, you'll notice how everything – from the furniture to the decor and colour palette – is carefully chosen to create a cohesive, elegant and aesthetically pleasing ambience.

Cleanliness

Lastly, a fancy hotel bedroom never falls short in terms of cleanliness, which is one of the first things you'll notice when you enter the room. The sheets are neat and crisp, the floors are spotless and everything sparkles.
How To Create a Luxurious Hotel-Inspired Bedroom
Now that you have a grasp of the defining characteristics that make a hotel room exceptional, let's jump into the tips on turning your bedroom into a luxurious hotel-like haven!
#1 Furniture and Decor
The furniture and decor you choose play a crucial role in making your bedroom as lavish as a 5-star hotel room. Carefully select bedroom furniture that's both elegant and functional, such as well-made pieces in calming colours that match that high-end hotel look. They don't need to be extravagant designs. Sometimes, the simpler the better, and it often adds to the elegance. Furthermore, using mirrors is highly recommended to make your room feel brighter and create the illusion of more space. To add character to your bedroom, you can also incorporate art pieces that you like, such as paintings to hang on the walls or figurines and sculptures to display on your desk.
#2 Lighting and Ambience
Another essential element that sets the mood in a room is the light fixtures. Picture the warm and welcoming feel when you enter a hotel room. That's the ambience we're going for. To achieve that, you'd want to opt for soft and gentle lights that create a cosy and calm mood in your room. To make it even better, consider placing lamps near your bed, such as on your bedside table, that you can adjust to make the light brighter or dimmer. This way, you can have the perfect light for reading, relaxing or getting ready to sleep.
#3 A Luxury Mattress
We've covered furniture, decor, and lighting, but there's something even more important in creating a hotel-like feel in your bedroom: the bed. A great mattress and high-quality bedding is the key to achieving that comfy and luxurious vibe you often find in fancy hotels.
When it comes to selecting the ideal luxury mattress, factors such as the materials used, firmness level and size should align with your personal preferences and needs. And don't forget about picking the right bedding and linens to ensure a perfect blend of comfort and style!
These choices affect your sleep quality and how much your bedroom feels like a 5-star hotel room. If you're searching for a mattress that will provide hotel-level comfort, you'll definitely want to explore the range of Sealy Posturepedic mattresses, featuring premium and ultra-premium options that you'll find in renowned international hotels. Sealy is a trusted name in the hospitality industry, providing mattresses to numerous 5-star hotels that prioritise their guests' comfort above all. To discover which famous hotels trust Sealy, visit our hospitality page.
#4 Comfortable Pillows
To complete your perfect hotel-inspired bed, include plush pillows and cushions. Start with the larger ones near the headboard and layer the smaller ones in front. Mixing different colours and textures also helps add a special touch to it. Don't be afraid to play around and find what suits your taste!
#5 Finishing Touches & Maintenance 
Adding those subtle final touches such as fresh flowers, scented candles and room fragrances can make a significant difference in completing the transformation of your bedroom. Placing fresh flowers in a vase can breathe life into your room, while the delicate aroma from scented candles or a room fragrance can add a lovely and calming scent that lingers in the air.
Keeping your room tidy and organised should not be overlooked as it is also a part of these finishing touches. This includes regular cleaning of your bedroom, washing your pillows and providing proper care for your mattress.
Experience a 5-star Hotel Experience at Home
By following this guide, you can turn your own bedroom into a 5-star hotel experience. Remember, it's not just about making a beautiful space; it's about getting a good night's sleep – and that starts with the perfect mattress. So, invest in your sleep, invest in a good mattress and enjoy the luxury of a hotel experience at home.
Start your bedroom makeover journey with Sealy. Explore our wide selection of mattresses, or take our mattress selector quiz to discover your dream mattress!