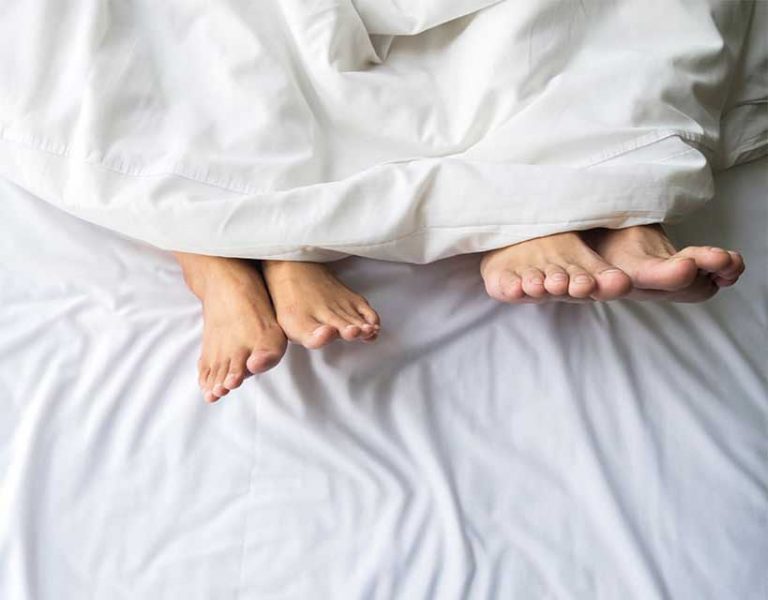 According to sleep experts, not only does an average adult spend up to one third of his life in bed, but each person's body type also requires a different level of support. The right mattress should provide sufficient support for your back and respond to each section of the curvature of the spine. As such, if you are getting a new mattress for your partner and you, you should test it out together to find out what suits best.
Here are some factors to consider when getting the ideal mattress for a couple:
Couple's Sleeping Styles
Discuss with your partner about your sleeping habits as different body types and sleep styles require different levels of firmness.
If you are on the heavier end, a firmer mattress will be suitable. However, if you are lightweight, a firm mattress might be too hard for you, hence go for one that is softer and plusher.
As for sleep styles, are you a back sleeper, side sleeper or stomach sleeper? If you sleep on your back, a good fit would be a medium to medium firm mattress as it allows for proper contour in your lumbar area. On the other hand, if you are a side sleeper, more pressure is put on your shoulders and hips. Thus, a softer mattress would be a good fit. As for those who sleep on their stomach, a firmer mattress will prevent "sinking in", maintain proper breathing and also overcome back and neck problems.
Mattress Size
Have you ever realized that you get a better night's sleep when your partner is not around and you're in bed alone? Studies have shown that sleeping alone allows one to rest better. If you're tossing and turning in bed and not getting a restful sleep, chances are your partner is feeling the same too.
If there is sufficient space in your room, get a King-size mattress for a less disturbed sleep. Do remember to measure your bedroom and check where the bed will fit. Are you able to open and close the doors comfortably and walk around with ample space?
Edge support
One factor that is often overlooked is Edge Support. We usually don't think much about it when we sit on the side of a mattress. Firm and reinforced edges would mean that there is more usable space on the mattress and reduces the risk of rolling off. It also ensures consistency on the surface of the mattress which keeps you as comfortable on the edge of the bed as you are in the middle.
Edge support is important when you're sleeping alone, and even more so when you are sleeping with a partner. A good mattress should provide support throughout in all the right places to provide proper spinal alignment.
Mattress Testing
Last but not least, the most important thing when choosing a mattress is to try it out with your partner. Don't be afraid to ask questions. Consult the sales consultants about the pros and cons of different mattress styles and materials. Too firm a mattress may be uncomfortable and may prevent your spine from maintaining its natural curve when you sleep. On the other end, too soft a mattress may lead to sagging, thus causing poor posture and back pain.
When shopping, wear comfortable clothes and lie on different mattresses for at least 15 minutes to see if you are happy with the comfort level. Try out a firm mattress, a plush one as well as a pillow top in the same quality and price point. While you may feel weird lying on a mattress in public, this is actually the most helpful way to get the perfect mattress for your partner and you!