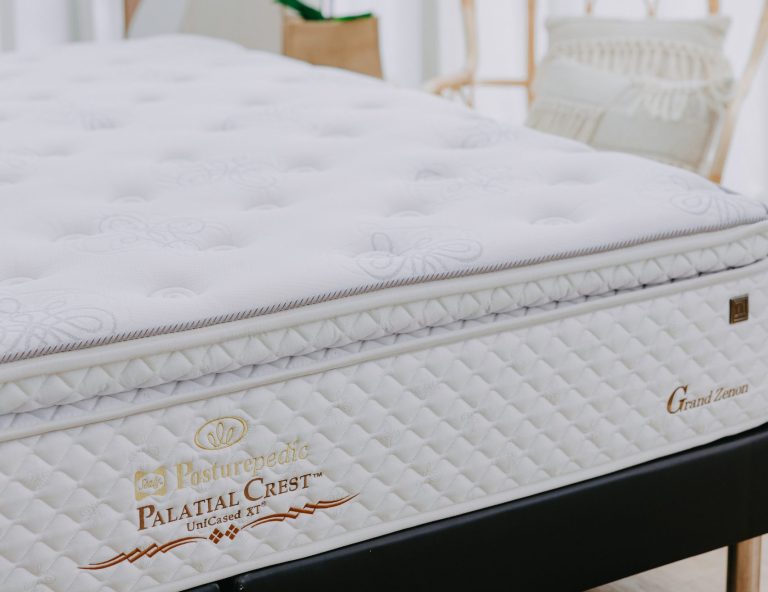 In today's world, we often prioritise spending more on items such as the latest smartphone model, TVs, trendy clothing or shoes – and that's not necessarily a bad thing! However, we tend to overlook things that can significantly impact our health and well-being, like our mattresses. We spend roughly one-third of our lives in bed, and getting quality sleep every night is essential for our physical and mental health. While we readily splurge on gadgets or fashion, it's time to consider the value of investing in a high-quality mattress if your budget allows. Let's explore together why investing in a luxury or premium mattress may be more crucial than you think!
What Makes a Luxury Mattress?
A luxury or premium mattress is not solely defined by its price; it should be crafted using top-quality materials engineered by experts to ensure superior comfort and support. Another thing that differentiates it from regular mattresses is that users can choose a mattress tailored to their specific needs. Furthermore, these mattresses often come with extended warranties, instilling confidence in customers who are willing to invest in one.
Things to Consider When Buying a Luxury Mattress
For any major purchases, such as a premium mattress, it's highly advisable to consider the following factors to ensure you make an informed and practical decision:
Budget

– Since luxury beds come in a range of price points, knowing your spending limits can help you narrow down your options.

Mattress Size

– Whether you're seeking a cosy twin for yourself or a spacious king for you and your partner, size matters for comfort and practicality.

Material

– Luxury mattresses often feature premium materials like memory foam, natural latex or innerspring. It's good to research these to determine if they match your needs.

Personal Preferences

– This includes firmness level or specialised features like cooling technology.

Brand Reputation

– It's worth investigating the brands you have in mind by reading reviews online. Reputable manufacturers are more likely to deliver consistent quality and customer satisfaction.

Warranty Period

– Ensure that your premium mattress comes with an extended warranty to give you peace of mind regarding the long-term durability of your investment. 
Taking all these factors into account ensures you select the perfect luxury mattress tailored to your specific needs and preferences.
Reasons To Invest in a Premium Mattress
While opting for a premium mattress may be a significant investment for some, it also offers the following benefits that you'll enjoy for a long time:
#1 Durability
Durability is one defining feature that sets high-quality mattresses apart from their regular counterparts. Generally, premium mattresses are engineered by experts using superior materials and advanced technology. These mattresses are put under rigorous tests before being released to the market, ensuring that they stand the test of time. At Sealy, we firmly believe that our customers deserve to receive great value for their money in every purchase, which is why we invest a great deal of time and resources in our Research & Development facility.
#2 Comfort and Support
Aside from their durability, these premium beds boast a blend of high-grade materials, meticulously layered to conform to your body's contours, relieve pressure points and promote an exceptional sleep experience. Sealy takes pride in its orthopaedically correct support design and pressure-relieving comfort system, allowing its users to achieve optimal sleep. To learn more about our luxury mattresses, we highly suggest that you read our article on 'What is a Sealy Posturepedic Mattress Made Of'.
#3 Additional Advanced Features
Premium or luxury mattresses often integrate additional cutting-edge features that are not found in a regular mattress. One great example is Sealy's Ice-Touch® Technology, which provides an instant cooling effect on your skin, and SmarTex® Fabrics that responds only when it's needed to disperse heat and moisture so you can sleep more comfortably. These innovations enhance your sleep quality and comfort in ways you never thought possible.
#4 Health Benefits
Investing in a premium mattress offers benefits that extend beyond comfort. These mattresses are known for their ability to improve posture and alleviate sleep-related issues like sleep apnea or insomnia, ultimately leading to improved sleep quality and better overall health and well-being.
#5 Guarantee/Warranty
When you invest in a premium mattress, it's reasonable to expect a premium warranty to come along with it. Many luxury mattress brands offer extended warranties to give their customers peace of mind, knowing that their bed is protected for years to come. For instance, Sealy offers a "Guarantee" for our Posturepedic mattresses. But what sets Sealy's "Guarantee" apart is that within the first 10 years after purchase, we will repair or replace your mattress at no cost if a manufacturing defect is found.
#6 Personalised Shopping Experience
The last but not the least advantage of buying a luxury mattress is the personalised and remarkable shopping experience it offers. Premium mattress brands often provide tailored consultations and recommendations to ensure you find the perfect mattress that meets your needs and preferences.
Are Luxury Mattresses Worth It?
When you consider the countless hours spent in bed, the value of this investment becomes clear – a luxury mattress is undoubtedly worth every penny. From its unmatched durability and comfort to advanced features and personalised shopping experience, luxury mattresses offer a level of sleep quality and elevated lifestyle that's simply unparalleled.
Are Sealy Mattresses Good?
Our premium mattresses possess the qualities that we've discussed in this article – so the answer to this question is yes! We have a wide range of high-quality beds that you can choose from. If you're unsure about which mattress suits you best, you may want to take our mattress selector quiz for a recommendation tailored to your needs. You may also book a 1-on-1 consultation at the nearest Sealy boutique to receive expert guidance in making the right choice for your ultimate sleep experience.